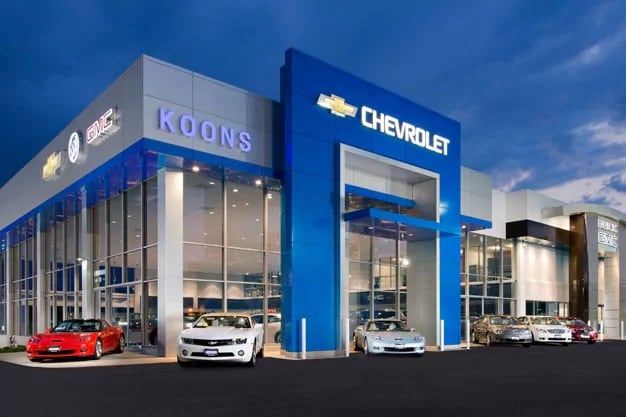 The next time you are in the market for a car, truck, van, or SUV, start your search at Koons Clarksville Chevy Buick GMC. We offer a large selection of up-to-date models, along with a broad inventory of certified pre-owned cars. Featuring an expert service department, a patient and friendly sales team, and well-connected finance experts, we are a full-service Chevrolet dealership for all your car-buying needs. We proudly support customers in the Washington, D.C.-Baltimore-Clarksville-Silver Springs, Maryland region and look forward to building a lasting relationship with you. Stop in to browse our showroom or to take a test drive today. 
New Car Selection
We recognize there is a lot to consider when purchasing a new car, and that you have many choices. Rely on our experienced sales staff to guide you to the right choice for your next Chevy, Buick, or GMC. That goes whether you are looking for a passenger for a daily commute, an SUV to take the kids to practice or rehearsal, a truck for your business or off-road adventure, or a cross-over vehicle for some other aspect of daily life.
Interested in our extensive inventory? Take a look! We have hundreds of GM vehicles available from the sporty Chevy Camaro to the powerful GMC Sierra.
Chevy, Buick, and GMC cars rank highly in the categories of reliability and affordability, with some, such as the Chevrolet Silverado or the GMC Sierra, making the list of the top-selling vehicles in the United States on a regular basis. Count on Koons Clarksville for the latest selection.
The Right Pre-Owned Vehicle for You
Buying new is not right for everyone. And there are many advantages to buying the right used car, financially and practically. Koons Clarksville maintains an ever-changing selection of pre-owned vehicles, including all makes and models. At Koons, we handpick the best trade-in, auction, off-lease, and factory vehicles available in the marketplace. You get a great selection at fantastic pricing. 
Each car is backed by the Koons Used Car Advantage, which includes the Koons used car inspection and seven-day exchange policy. You will also love our low-price everyday commitment. We play no games, posting an itemized Koons price on the window of every car upfront. We'll also make it easy to make an educated purchase from us. You will receive an honest and straightforward appraisal of your trade-in, even if you decide not to buy from us.
Expert Sales and Convenience
With years of experience and a deep understanding of Buick, Chevrolet, and GMC vehicles, our sales team is ready to work with you to find the best possible vehicle to fit your individual needs. We will answer your questions about the details of each vehicle and provide frames for comparisons to help you decide. Our sales managers are focused on listening to your needs, both for roominess, reliability, and budget, and for putting choices in front of you that will meet those needs. Our goal is to earn not only your business but also your respect.
Living in the Internet age, we also make it possible for you to complete your entire auto shopping transaction without leaving your living room. We call it our Koons Concierge Service. Over a computer or laptop at home, you can:
Find your perfect car.
Model and select financing options.
Get a documented offer for your trade-in.
Communicate with us via text, chat, or video chat.
Upload transaction documents.
Arrange for a touchless delivery.
Simple and convenient, Koons Concierge Service does it all for you.
Affordable, Knowledgeable Service
The Koons Clarksville Chevy Buick GMC Service Center is ready to fulfill all your post-sale needs with expert service that will protect your investment. Our service and parts teams can help keep your Chevrolet Silverado 1500, Traverse, GMC Acadia, Sierra 1500, Buick Encore, or other types of vehicles running at their best. With this type of care, you can be confident that we're the place to take care of all your automotive needs. We provide everything from air-conditioning to window repair, even including state inspection services.
We make it simple for you to schedule your service appointment from the comfort of your own home or office. Our service-scheduling portal is ready at any time of the day. Koons' certified service also offers complimentary pickup and delivery. Rely on our experienced service technicians to maintain your car so it lasts as long as you want it to.
Financing Options
Koons Clarksville Chevy Buick GMC proudly provides a full range of finance options to help you take your dream vehicle home with you. Whether you're interested in buying a new or used vehicle or leasing a new vehicle, our in-house finance team is ready to help. 
We make it easy by providing a series of web-based tools that will help you estimate your monthly payments, understand your trade-in options, or get a head start by filling out an online financing application. If you prefer the old-fashioned way, our finance experts are also willing to sit down with you and walk through the numbers in detail. This goes for new and used auto loans or leasing. The Koons finance team is ready to help.
Choose Koons Clarksville Chevy Buick GMC
Serving Clarksville, Rockville, Silver Spring, Baltimore, Columbia, and surrounding areas in Maryland, Koons Clarksville Chevy Buick GMC delivers everything you need when shopping for your next car, from selection to financing to expert service. We put you and your family at the center of everything we do, with the goal of earning your long-term business and respect.
Whether you are looking to buy a new Chevrolet, GMC, or Buick in the Washington, D.C. area, or a pre-owned model of other manufacturers, we have the options that will fit your needs and budget. We'll help guide you through the process at your own pace.
Come see us at Koons Clarksville Chevy Buick GMC to get started today. Here in our convenient Clarksville showroom, serving the nation's capital region, we're ready to assist you. We can answer any questions about your Chevrolet, GMC, or Buick options, and help you find your next vehicle or take care of your current one. Come for a visit soon!
Sales Hours
Monday

8:30 am - 9:00 pm

Tuesday

8:30 am - 9:00 pm

Wednesday

8:30 am - 9:00 pm

Thursday

8:30 am - 9:00 pm

Friday

8:30 am - 9:00 pm

Saturday

8:30 am - 8:00 pm

Sunday

9:00 am - 5:00 pm
Service Hours
Monday

7:30 am - 6:00 pm

Tuesday

7:30 am - 6:00 pm

Wednesday

7:30 am - 6:00 pm

Thursday

7:30 am - 6:00 pm

Friday

7:30 am - 6:00 pm

Saturday

8:00 am - 4:00 pm

Sunday

Closed
Parts Hours
Monday

7:30 am - 6:00 pm

Tuesday

7:30 am - 6:00 pm

Wednesday

7:30 am - 6:00 pm

Thursday

7:30 am - 6:00 pm

Friday

7:30 am - 6:00 pm

Saturday

8:00 am - 4:00 pm

Sunday

Closed
Directions
Get Directions