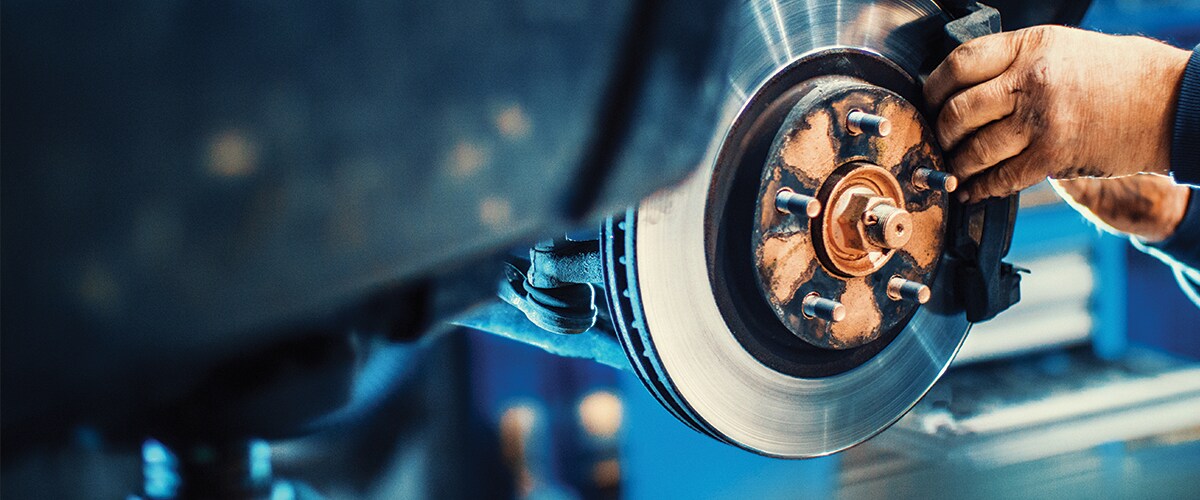 Brake Service in Clarksville, MD
You really can't be too careful when it comes to ensuring healthy stopping capabilities in your vehicle. Indeed, if you've noticed that your vehicle could use some brake service, the Koons Clarksville Chevy Buick GMC service team is prepared to help! Our seasoned team of service professionals is ready to replace brake pads and check the condition of your calipers and rotors. Schedule a brake service appointment at Koons Clarksville Chevy Buick GMC today!
Here at Koons Clarksville Chevrolet Buick GMC, we appreciate how drivers in the Baltimore and Columbia, Maryland, region take pride in caring for their vehicles. Taking preventive measures by maintaining your brakes will help keep our roads safe as well as saving you money by avoiding damage that might require costly repairs.
To take care of your brakes, it helps to know some general things. Each vehicle has unique needs that change based on how you're driving. That's why we're here to help. Our team is happy to explain the specific requirements for your vehicle, and we'll tell you exactly what to look out for to ensure that your braking system will be running well in the long-term. Let's begin by discussing your rotors.
Getting Your Rotors Turned
Rotors need to be turned after they become worn out from use. You want the surface of the rotors to be smooth. When rotors are ready to be turned, you can feel deep grooves in them when you run your finger along the surface.
Turning rotors involves using a lathe to shave off the surface so they're even and smooth again. How many times rotors can be turned before needing to be replaced depends on the particular rotors. We can tell you about yours when you bring your vehicle in for servicing.
Squeaking Brakes Need Servicing
When your brakes get noisy, it's time to bring them in for servicing right away. Some brake pads have a wear indicator built into the pad to help alert you when it's worn too thin. Once enough of the pad wears down, the wear indicator scrapes against the rotor, producing a squeaking sound.
Sometimes a squeaking, screeching, or grinding sound is produced from the metal-on-metal scraping when the rotors and calipers are in contact with each other. This occurs when brake pads are worn down way too far. It's important to resolve this issue as soon as possible so that it doesn't result in damage to your vehicle. Ignoring it could require costly repairs or even reduce the functioning of your braking system and be a hazard on the road.
Service Brakes Before They Screech
You don't want to neglect your brakes until they screech. It's best to schedule your brake servicing before they require immediate attention to promote safety and reduce the chances of damaging your vehicle.
How do you know when it's time to schedule brake service? There's no one-size-fits-all answer, contrary to what some sources may say. For example, not all brake pads will need to be replaced after any particular number of miles. There are many factors that influence how quickly brakes may wear out, including:
How often the brakes are used while driving.
Number of miles driven with your current brake pads.
Durability of the brake pads.
Do you have to brake fairly often while driving around town, or do you drive mostly on the highway where you brake only occasionally? The more often you use your brakes, the faster they'll wear out. The more you drive, the more your brakes will wear down. Finally, the rate at which your brake pads wear out will depend on their quality and material.
Notice the Feel of the Brake Pedal
While the experts here at Koons Clarksville Chevrolet Buick GMC can easily speak with you to answer questions about the needs of your specific vehicle, there's an easy way you can tell it's time to have your brakes serviced. Just pay attention to the feeling of resistance when you press your foot down on the brake pedal. As your brake pads wear down, do you start to feel a squishiness to the brake pedal? That's a sign that it's getting time to schedule a service appointment before your brakes wear to the point that they begin screeching.
Let Experts Change Your Brake Pads
Are you wondering if you can service your brakes on your own? Something as simple as selecting new brake pads actually requires a thorough understanding of your car's specific requirements as well as your driving style and environment. Changing out the pads yourself requires specific tools and detailed knowledge of the braking system. Plus, you might not know to check for certain problems with your brakes that experts are trained to notice.
We do recommend that you learn about your vehicle so that you can take the best care of it and know how and when to get quality service. Still, it's always best to have a professional evaluate your brakes. We're trained and experienced in checking up on the overall condition and functioning of your braking system.
Schedule a Service Appointment
It's quick and convenient to schedule a service appointment for your vehicle here at Koons Clarksville Chevy Buick GMC. From the comfort of your home, simply fill out our online form and you'll be all set to have your vehicle checked by our expert technicians.
When you bring your car to us for brake servicing, you can trust that we'll complete a comprehensive evaluation of your entire braking system. We'll also complete the servicing so that your braking system is optimized for your individual vehicle as well as for your driving needs and personal preferences. Like we said, there's no one-size-fits-all answer to any question about brakes, so we'll make decisions for your particular vehicle and driving style.
The Koons Clarksville Chevy Buick GMC service team is ready to replace the brake pads and check the condition of the calipers and rotors for our customers in the Washington, D.C., Baltimore, Clarksville, and Silver Springs, Maryland, region. Schedule with us today!
Why Koons Clarksville Chevy Buick GMC Is Great
Here at Koons Clarksville Chevy Buick GMC, we are a full-service dealership boasting a large inventory of certified pre-owned cars. Our excellent service department, patient sales team, and knowledgeable financial experts are all dedicated to establishing long-term relationships with our Washington, D.C., Baltimore, Clarksville, and Silver Springs, Maryland, customers.
Have a car you want to sell? We're buying used vehicles! Complete a two-minute appraisal to find out your car's value.