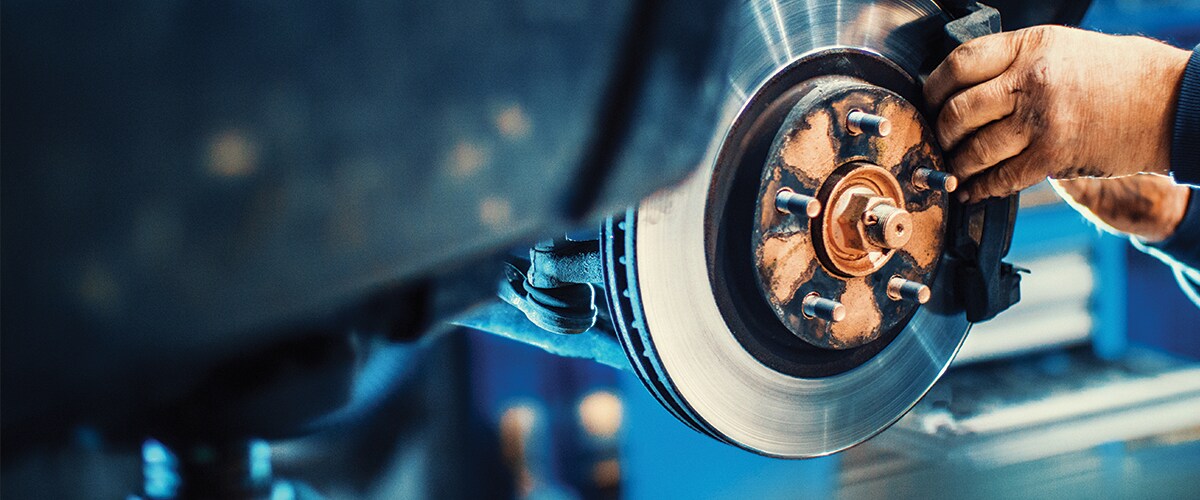 Brake Service in Clarksville, MD
You really can't be too careful when it comes to ensuring healthy stopping capabilities in your vehicle. Indeed, if you've noticed that your vehicle could use some brake service, the Koons Clarksville Chevy Buick GMC service team is prepared to help! Our seasoned team of service professionals is ready to replace brake pads and check the condition of your calipers and rotors. Schedule a brake service appointment at Koons Clarksville Chevy Buick GMC today!
A well-maintained car battery is an essential part of any serious maintenance regime. Your battery provides the power necessary to get your engine going, and it's also needed to run your vehicle's electronics. Without a top-performing battery, there's a good chance you won't make it very far on your next drive. Our service team here at Koons Clarksville Chevrolet Buick GMC can offer you the full range of battery maintenance services, so don't hesitate to schedule your appointment today.
Car Battery Services in Clarksville
Our Chevy service technicians make battery care a vital part of a routine maintenance appointment. We can perform battery inspections to make sure your battery is in good condition. Cleaning corrosion from your battery and checking for signs of damage are essential ways to avoid potential problems. We also perform battery tests to determine how well your battery is holding its charge. When a battery gets older, its ability to retain a charge drops, which is usually a sign that it's time for a new one.
When you require a replacement, we can dispose of your old battery safely and install a new one. Our parts department stocks various batteries to suit a variety of vehicles. Before you head to our dealership for your battery service, don't forget to check out our service specials. These may include discounts or other incentives on a new battery purchase or installation.
How Do You Know When Your Battery Needs Replacing?
All batteries wear out over time, but the good news is that they give you plenty of warning signs so you can take action. If you know what to look out for, there's no reason you need to end up stranded on the roadside with a dead battery before organizing a replacement. Instead, responding promptly to the initial signs of a problem will give you plenty of time to replace your battery without too much hassle.
A weak battery will take longer to start your engine. You may notice that when you push the start button or turn your key, it takes a few more seconds for your engine to rev up than it used to. Alternatively, you may notice an unpleasant smell coming from your battery, which is a sign that fluid is leaking from it. You can perform a quick visual inspection to check whether this is the case. If you spot a build-up on its connections, your battery may be able to continue working if you clean its connections.
A further way to keep on top of your battery's health is to take note of its age. A battery generally lasts three to five years, but various factors can impact its working life. One of these is your driving habits. If you take a lot of short journeys, your battery's working life may be reduced because it doesn't have a chance to recharge fully.
Temperature extremes can also shorten a battery's lifespan. Hot temperatures can dehydrate the battery, causing corrosion to occur more rapidly. In contrast, cold temperatures place extra strain on the battery when it generates power and reduces its ability to hold its charge.
Choosing the Right Replacement Battery
Before you can replace your car's battery, you need to consider a few issues. First, you'll need to know which group sizes your vehicle can accommodate. A battery's group size tells you its height, length, and width. Most vehicles can use several group sizes, which are listed in your owner's manual.
You'll also need to check that the battery you purchase has enough power for your vehicle's needs. A battery's performance is generally measured by cold cranking amps (CCA). This measure describes the amount of power a battery can produce for 30 seconds at a temperature of 0 degrees Fahrenheit. The CCA required by your vehicle should be mentioned in your owner's manual. It's important that the battery you install meets this CCA level at a minimum since it'll otherwise prove unable to provide sufficient power.
If you're unsure about your car's group size options or want assistance locating an appropriate battery, we're here to help. Our service and parts teams are experienced in supplying batteries to match all vehicles, whether you drive a Yukon SUV, Malibu sedan, or Silverado truck.
Why Choose Koons Clarksville Chevrolet Buick GMC for Your Battery Service
Our professional service center is a great choice for drivers requiring a quick and hassle-free battery maintenance appointment. Our technicians use their expertise and cutting-edge equipment to determine whether your vehicle is dealing with a battery problem or something else. Sometimes, people who stop by thinking their battery is the issue may have a problem with the alternator or spark plugs.
We'll also take advantage of your visit to give your car a careful multi-point inspection. This checkup will allow us to identify any other maintenance tasks that need to be taken care of. Rotating your tires, changing your brake pads, and topping up your fluids can help your vehicle continue performing at its best and prevent expensive damage from occurring.
If you want a reliable option to purchase a new battery or any other auto parts for your car's maintenance, our well-stocked parts center can help. You can place an online order in advance or talk to one of our parts team members while you're here. We only use original equipment manufacturer parts when we perform repairs since they provide better performance and durability than aftermarket parts.
If you have questions about our battery services or any other aspect of our maintenance offers, feel free to contact us. Our friendly staff members in our service and parts departments will be happy to take your call, respond to your online message, or advise you in person when you stop by our Clarksville dealership. Our main goal is to help you access the high-quality maintenance service you deserve at your convenience, so be sure to use our service scheduling form or visit our express lane.