New Tuscany Custom Lifted Trucks Harley Davidson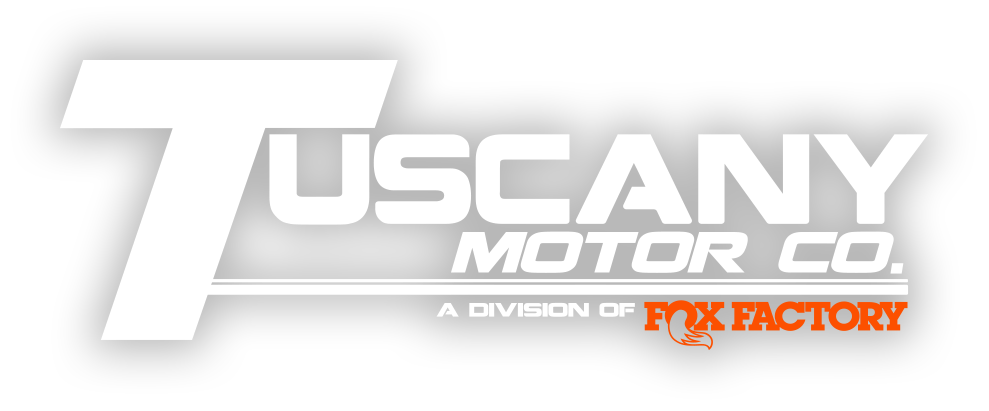 The 2020 Harley-Davidson GMC includes over 65 proprietary components that make the truck stylish, comfortable and unmistakably Harley-Davidson. Production will be limited to 250 trucks.
Expressive Design Elements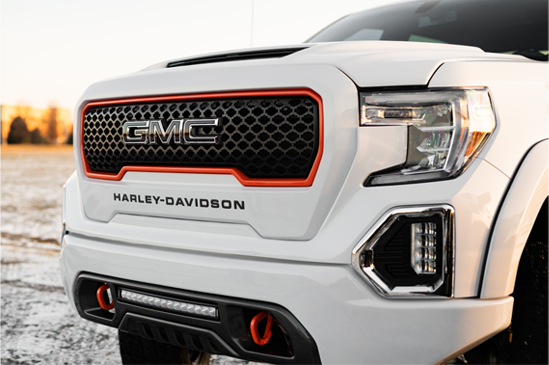 Grille & Skid Plate
The aggressive face of the Harley-Davidson GMC boasts a fully customized grille with Bar & Shield patterned mesh, accented by a continuous orange contour insert. The Harley-Davidson name is incorporated into the bezel. A dark finish skid plate with accented orange tow hooks complete the well polished front end appearance.
INDUCTION STYLE HOOD
Form and function are key to the impressive design of the exclusive Harley-Davidson GMC hood. The full replacement hood features a black injection molded hood vent inserts allowing for induction air flow.
FENDER VENT
The Harley-Davidson GMC was designed to be unmistakably Harley-Davidson, down to every last detail. This includes the active air fender vents, which feature raised orange and dark finish perimeter accents, and the Bar & Shield logo.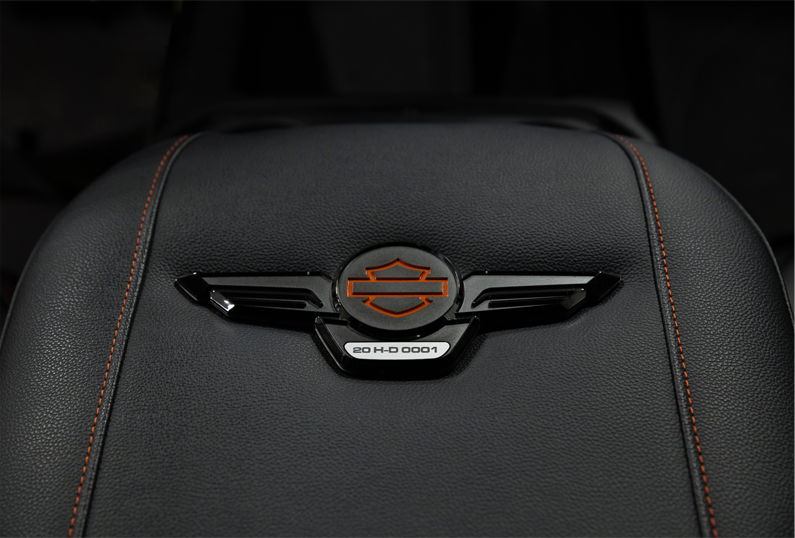 LIMITED EDITION NUMBER PLATE
Every Harley-Davidson truck produced is assigned a limited edition number, which is placed onto the center console in a stylish design. Take pride in having the truck's unique number emblazoned for all to see.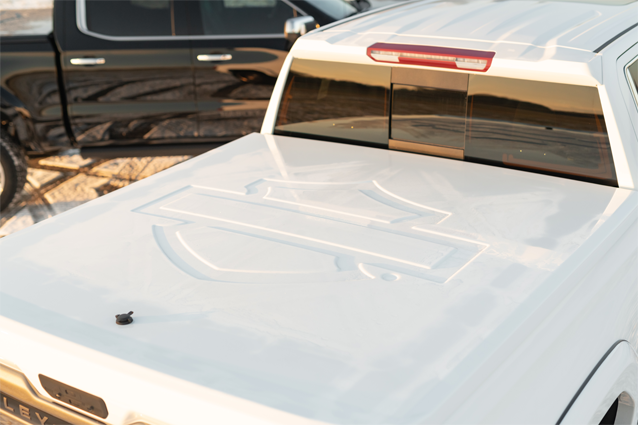 TONNEAU COVER
The largest Harley-Davidson badge is located on the color matched tonneau cover. The Bar and Shield logo is debossed onto the top of the tonneau cover, making for a very bold statement. As an added level of security, the tonneau cover also features a lock to protect cargo.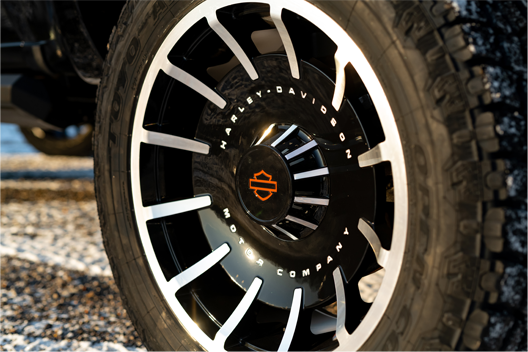 "FATBOY" MILLED WHEELS
The 22″ wheel styling of the Harley-Davidson GMC was inspired by the famous Harley-Davidson Fat Boy® and CVO® motorcycle models. Demand attention with the vivid, orange logo and "HARLEY-DAVIDSON MOTOR COMPANY" milled into the face of the wheel.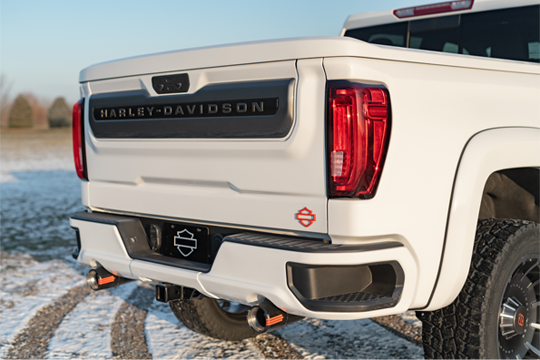 TAILGATE & EXHAUST
TThe tailgate boasts dark finish cladding with integrated Harley-Davidson badging. Completing the Harley-Davidson GMC package is a custom-tuned exhaust, which features exclusive solid aluminum black tips and orange accents.
Harley-Davidson

The Harley-Davidson branded pick-up truck was created to give motorcycle enthusiasts the opportunity to once again enjoy classic Harley-Davidson design cues in the top selling vehicles in America.
ORDER YOUR HARLEY-DAVIDSON GMC TODAY
Contact Koons Clarksville Buick GMC, the exclusive retailer in Clarksville, MD to learn more about ordering your Harley-Davidson GMC truck today.